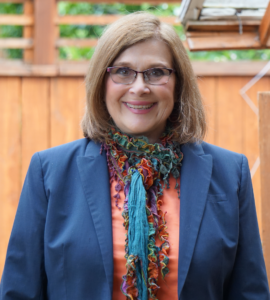 Sharon and her husband of 39 years, Ted, have twin daughters and two grandchildren. She has hiked through most of the Northwest with Ted, even climbed Mt. St. Helens the year before it erupted after he said it was safe! When she's not working, you'll find Sharon cooking and eating good food with friends and family, creating oil paintings in her studio, or backpacking through the NW mountains.
Born in New Orleans, her first job was at a local mall at age 14, wrapping Christmas gifts for families. She worked through college, doing anything from graphic art, work study jobs for the Department of Agriculture, restaurant work, and running campaigns – eventually earning her BA in Political Science from UC Riverside. After college, Sharon moved to Washington where she held positions starting a non profit providing support to victims of sexual violence and as City Administrator at the City of Tukwila.
Fast forward to the present: Sharon has more than 30 years of management, public relations and leadership experience in business, non-profits and government. Sharon has worked as both internal and external consultant, helping organizations be more effective. As government relations officer for Clark County she developed yearly legislative agendas, strategies, and initiatives.
From 1993-1998 Sharon served as an Oregon Legislator in State House District 22 in Gresham.  Sharon has served on non-profit boards such as Council for the Homeless of Clark County and Affordable Community Environments (ACE), a low–income housing development non-profit.